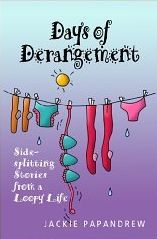 In the spirit of Erma Bobeck, Jackie Papandrew's collection of essays on the perils and hilarities of motherhood and married life are both touching and side splitting hilarious. Jackie Papandrew can take even the most mundane task of doing laundry and turn it into a comic adventure that will have you dying for air.
I believe I grabbed this for my Kindle when it was free, sadly, it sat on my Kindle for several months until I finally got around to reading it. I wish I hadn't waited so long as this was genuinely funny.
After reading this, I just had to start stalking (erm, following) Jackie on Facebook as I definitely need more humor in my life. I have no doubt that I will not be disappointed.